Saturday, November 19th
Attention all Walk Team Captains: Please stop by the DSNetwork office on either Wed, Nov 16 or Thu, Nov 17 from 11 am to 3 pm to pick up your DSNetwork Swag Bag. The bag will have your team's walk shirts & prizes. Picking up your bag ahead of time saves you time in line on walk day. If you cannot stop by the office, your bag will be at the Walk registration on Sat, Nov 19 starting at 7:45 am.
7:45 am – Team Captain Check in at the DSNetwork tent located on University Dr. just east of the ASU pedestrian bridge (Note: all walkers are to check in with their team captain for their shirt)

8:30 am – All walkers begin moving to the "staging area" near Forest Ave for the Walk / ASU Homecoming Parade

9:00 am – Walk / ASU Homecoming Parade starts (1/2 walk from Forest Ave. to McAllister on University Dr.)

9:30 am – Homecoming Block Party begins – Join our tent for some delicious hamburgers & hotdogs served by Chili's and activities for the whole family

10:00am – Enjoy the Fiesta with Mariachi music and Folkloric dancers 

We are EXCITED to return to the ASU Homecoming Parade where we will be walking in-person since 2019. This year's theme is Fiesta de la Parada – a festive day of celebration filled with inspiration of 1,500 Walk participants. Our group of walkers leads the parade where 20,000 ASU Sun Devil fans will cheer us on.
Remember to make team signs and decorations for your walk team.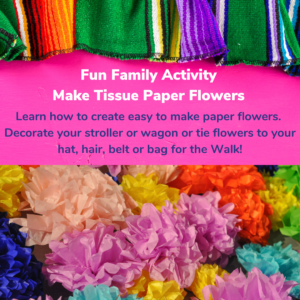 Come meet and play with the following sponsors who will join us at the ASU Homecoming Block Party to celebrate: